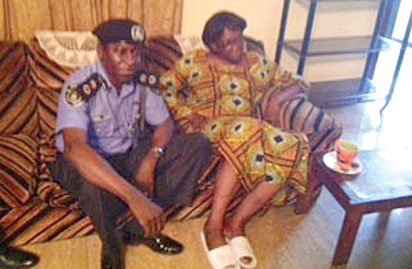 Donu Kogbara who was kidnapped from her residence in Port Harcourt, Rivers state, Nigeria, was on Friday dumped in one of the numerous creeks that dot Nigeria's oil rich Niger delta, by her kidnappers who forced a fisherman to take her to a place from which she could find her way home. She told reporters that her kidnappers were aggrieved youths who referred to Nigeria's insanely corrupt politicians as "official hoodlums."
Her first visitor was the Rivers state police commissioner, Mr Musa Kimo, pictured above with her, who was full of praises to God for her release. This is the man who was supposed to be in charge of not only ensuring that Miss Kogbara was safely released to her family, but also bring the kidnappers to justice. He has instead abdicated his responsibilities to God. The Nigerian police only talk tough when they accost and demand bribes from innocent commuters and drivers who are going about their legitimate business. Many civilians (especially drivers of commercial buses) have been killed by the police for refusing to give bribes of as little as the equivalent of 10 cents ($0.10).
It is obvious that Miss Kogbara's family had paid a ransom for her release, a fact that the Nigerian press is, and will continue to be, silent about. The police have not issued any statement apart from thanking God for her release, and there has been no talk of plans to apprehend and prosecute her abductors, who can be expected to strike again soon.
The mainly muslim northern part of Nigeria have already adopted sharia law, and the mainly christian south seek out miracle-performing (and resource-draining) men and women of God for every conceivable problem. Since God is now in charge of Nigeria's affairs, it is only natural to give him (or it?) thanks when a kidnapped woman is freed.