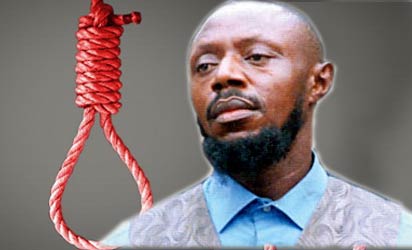 Chukwuemeka Kingsley Ezeugo, who prefers to be called Reverend Dr King, on July 22 2006, doused seven young women with petrol and set them ablaze after accusing them of sexual immorality. One of the victims, Ann Uzor, died as a result of third degree burns she sustained, on August 2 2006. Mr Ezeugo was arrested and charged with six counts of attempted murder for which he got a 20-year prison sentence, and for the murder of Miss Uzor, he is to face the hangman's noose.
Since his sentencing in January 2007, he has been challenging the decision of the courts and now, he has finally landed on the bench of the Supreme Court who will decide his fate on February 26, 2016. The young women Mr Ezeugo set ablaze were members of his Christian Praying Assembly, who lived at his residence, but in a different building. During the trial, the girls talked about how they catered to his lust, served him while they were completely in the nude, and one of them even claimed she had been pregnant for him on four occasions, and the trauma of having to terminate each of the pregnancies. They also intimated the court of his brutality, as he often beat them with canes and sticks and caused them severe injuries. They could not report their abuse at his hands because they lived in fear of the perceived repercussions of going against God himself. Members of his church usually spoke to him while on their knees as a sign of deference, as he claimed he was God, the owner of the universe, who could do anything. Mr Ezeugo also admitted during the trial that he beat members of his church with canes.
Mr King's story is not so different from that of a lot of other Nigerian preachers. Pastor Chris Oyakhilome, whose recent bitter divorce from his wife and vice president of the Believers Love World Inc, Pastor Anita, mainly due to his abusiveness towards her as well as his philandering, was splashed across cyber space in Nigeria. The divorce of course polarized the church, but most of them stayed with, and still support, Mr Oyakhilome.
Mr King is certainly getting what he deserves, but it is a pity that we live in a world where justice is not always served.