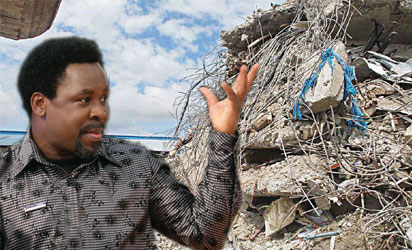 Just as I expected, prophet TB Joshua and his engineers were a no-show in court today to stand trial for their role in a collapsed building that killed over a hundred persons. I expressed my very real fears yesterday when I highlighted the impunity Mr Joshua was likely to put on display in this trial, and also the complicity of Nigeria's corrupt judiciary.
Keen followers of this absurd drama are unlikely to be very surprised at this latest development; t
he surprise would have been that TB Joshua was at the trial today, and no explanation was offered for his absence. As for the engineers, their absence was put down to the fact that they had no valid physical address at which the court summons could be served, and their counsel justified their absence by saying that they did not have to be in court since they were never served. The presiding judge adjourned the trial to December 11.
It is heart-breaking that the path of this trial has been determined so early in the proceedings, and following this sorry precedent will be a variety of reasons to stall and subsequently adjourn the trial to a much later date, which means that justice may never come for the victims of such callous negligence. The Nigerian judiciary is on trial here, and this particular case will further expose its decadence, as well as the power of these new generation (pentecostal/prosperity) preachers.
Mr Joshua has been remorseless and unrepentant from the outset. The first thing he did after the building collapsed was to quickly release a video purportedly showing that a UFO was responsible for the collapse of the building. The site was visited by Goodluck Jonathan and Babatunde Fashola, who were, then, the president of Nigeria and the governor of Lagos state respectively. Jonathan was in the race to be re-elected president, in five months, against current president, Muhammadu Buhari, who was being supported by governor Fashola. None of these men wanted to be seen as going against a 'man of God', especially so close to the elections (not that they would have done anything if the elections were not so close).
The judge has ordered that the engineers be served within 72 hours and has told their counsel to intimate them that they are facing criminal charges and should therefore take it seriously. This means that Mr Joshua has been served since he has a fixed and valid physical address which is known to the court, but he still failed to appear. It is clear that he is not taking this case seriously and his contempt of the judicial process should not only be noted, but added to his criminal charges.