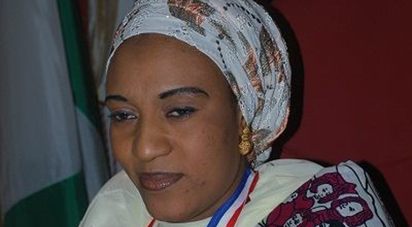 The wife of the Borno state governor, Hajia Nana Shettima who is pictured above, has distributed cancer prevention and detection kits (sic) to the wives of the 27 local government caretaker chairmen for onward delivery to "targeted beneficiaries" across the state. She presented the kits at an enlightenment campaign in Maiduguri, the state capital, where she told those gathered that cancer had become deadly (when was is ever not) in the state, especially among women.
Mrs Shettima presented the kits to the wives of the caretaker chairmen of the 27 local governments in the state. The local governments are supposed to have substantive chairmen who are elected, but for some dubious reason, there are none. These 'caretaker chairmen' are party loyalists selected by the governor and the power brokers in the state who act as figureheads in their respective local governments; they have no real power and are completely subject to the whims of the governor. All they have to do is remain loyal, protect the interest of the governor and the ruling party, and propagate the nepotism that got them the job in the first place.
As for those kits, it was never specified what kind of cancer they were meant to detect, but since women were the target, I would reckon cervical or breast cancer. Lest I forget, madam first lady (as she is officially addressed), there are no kits that prevent cancer, the kits only detect, not prevent specific cancers. Please inform the women in your state.
These occasional public stunts by those in government in Borno state are a sham designed to make it look like there is a functional government in the state. Boko Haram has the state in its grip, and there are hardly any economic activities going on. I have mentioned previously that all the Borno state government does is collect its monthly allocation from the federal government, and misappropriate same. There is no investment in education or infrastructure. The governor, Kashim Shettima, became governor in May 2011 and was re-elected early this year for a second term of 4 years. He has nearly 42 months to continue to misappropriate public funds.
Kudos to vanguardngr.com